One of the great features of the Strip Drive (2016-2019), Stick Drive, KTV Drive, Mini, Hecto, and Micro Drive lights is the USB stick that plugs directly into a USB port. You can use any USB port to charge, from computer ports to wall chargers to car multimedia connections, all without any cable needed.
It's important to notice with our USB sticks that due to the slim design, they don't have anything to prevent them from being plugged in upside-down. Here are a couple photos to help with plugging the light in correctly.
One side of the stick has brass contacts.
The other side does not.
There are corresponding brass contacts in the USB port. The two sets of terminals need to face each other for the light to charge.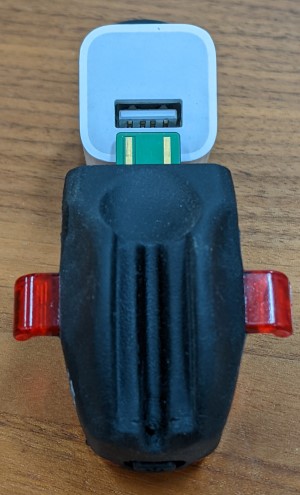 If the light is charging properly, it will have an indication that varies depending on the light model.
KTV Front

KTV Rear

Stick Drive

KTV Smart Connect Rear

Mini / Hecto / Micro Drive
If you don't see the charging indication, remove the light from the USB port, flip it over, and reinsert it.
Two of our smaller lights use a Micro-USB port to charge with a cable.
| | |
| --- | --- |
| Femto USB (Front & Rear) | Strip Drive (All models) |
If you have any more questions, or are having a problem with your light, please submit a request for help from our Support Team.