Live Tracking is a great way to let friends and family see your ride in real-time. Location, speed, heart rate, or any other metric provided by peripheral sensors are sent via the Lezyne Ally app and displayed on a GPS Root dashboard.
You'll want to first make sure your GPS device is paired with your phone.
Open your Lezyne GPS Ally App and go to the More tab on the right on iPhone, or hamburger menu on the left for Android.
| | |
| --- | --- |
| iPhone | Android |
Select Lezyne Track.
In the upper right hand corner is a plus sign. Select that to add the people you'd like to receive a notification that you're riding.
If you pick a contact, make sure that you have an email entered for that contact on your phone, or you can manually enter the email address of the recipient.
After adding a recipient, toggle Enable live tracking to on.
NOTE: If a recipient clicks the opt-out link in the Lezyne Track email, they will need to contact us directly from their email to be reinstated. This will be shown in the app by the email address not being added to the list after being entered.
Now when you start a ride, your recipient list will get an email with a link to click or paste into a browser.
The email can end up in your recipient's spam or other filtered folder. If it does, have them add the email address to their whitelist.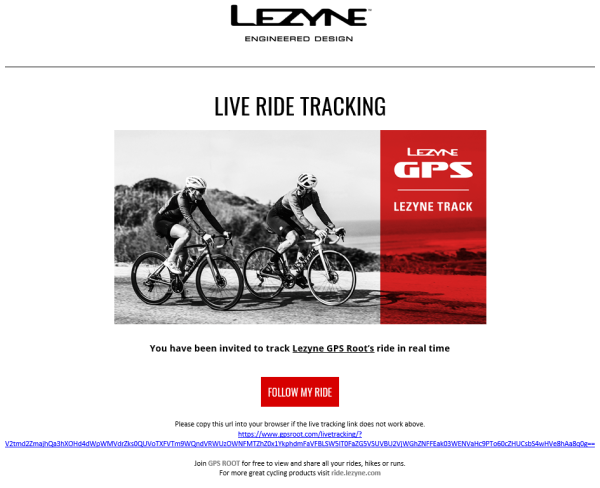 That link will send them to a web page where they can watch you ride.
Note: This feature does require a constant cellular data connection and will expend your allotted data package on your phone plan. You'll have to test it to see exactly how much.
If your recipient accidentally clicks on the opt-out link in the email, you can submit a request with our Support Team to get the email address reinstated.

If you have any other question, please submit a request and our Support Team will be happy to help.